BLOOD REVOLT – INDOCTRINE (Profound Lore Records)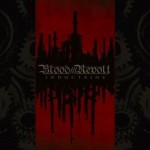 I bought this album because of the involvement of one Alan Averill from Primordial on vocal duties. Considering how terrible the last couple of Primordial LPs have been, I really should have known better. In a nutshell, this release is a total waste of space and I seriously regret parting with a percentage of my wage just to say I own it.
There's a lot to be said for listening to a few tracks from an album online – even one song, perhaps – before committing yourself, because it would save unnecessary anguish and frustration in the long run. As a traditionalist, I prefer to just take a leap of faith on some purchases – a bad error in judgement when it comes to Blood Revolt. If I'd heard even twenty seconds of this rubbish in advance, I'd have passed.
The signs were so misleading, though. Renowned singer from an Irish (ex-)Black Metal band; two members of Revenge; released on Profound Lore Records – Jesus, I thought this was a safe bet. Alas, the disparate parts don't blend together at all and, to my ears, 'Indoctrine' is a complete, God-awful, irritating mess. Totally unlistenable. It's probably as bad an album as I've heard in the past twelve months. Vocals that fluctuate between Dead Kennedys and Queensryche  do not work with this style of progressive Death Metal music, so the end result made for one of the most unenjoyable 40-or-so minutes of my life.
What gets me is this: why release a recording that's not a 'proper' album? When members of different bands get together seemingly for the craic, why not just make the music available to interested parties for free? It's an insult to people to throw together a release like this and then charge money for it. I'm not wasting my breath any more on it.
Evilometer: 000/666