SVIKT – I ELENDIGHETENS SELSKAP (World Terror Committee)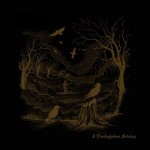 Stellar Norwegian Black Metal of the highest calibre courtesy of Blut & Eisen / World Terror Committee. The debut album from Svikt presents eight wonderful BM workouts, averaging a grand six minutes' duration apiece, dished up with a level of confidence, competence and conviction that befits Norway's reputation as the true home of Black Metal. Svikt is a band with no hype and there was fuck all of a fanfare around the release of 'I Elendighetens Selskap' a couple of months hitherto, but who needs publicity or media saturation when your output is as captivating as this?
'I Elendighetens Selskap' ticks all the boxes. It basically possesses all the ingredients that a great Black Metal album make. It's raw and harsh (but with a very clear production); it's visceral; the vocals are cold and grim; there are multiple changes in pace and mood; and there is a touch of melody and atmosphere in the songs that ensures things never become monotonous. The balance is perfect, rendering 'I Elendighetens Selskap' an album I'd gladly place in my collection alongside Nartvind, Urgehal, Horna, Kadotus or Hinsidig. I'm not necessarily saying Svikt sound exactly like any of these, but they are certainly similar in attitude.
'I Elendighetens Selskap' isn't an album that rewrites the rulebook or tries to be different (instead sticking religiously to a tried and trusted blueprint); it's just a superb example of how intoxicating good old traditional Black Metal can be when it comes from the darkest of hearts. I'm hoping it gets a vinyl release soon because this is one collection of hymns that would fit the black wax format perfectly. All in all, an excellent slab of Black Metal with more than enough to keep even the most discerning listener engaged for countless listens. I know I'll certainly be revisiting this one over and over again.
Evilometer: 555/666