CARPE NOCTEM – VITRUN LP (Code666)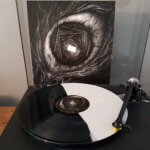 Condensing, distilling the frigid, frozen, barren landscape of their homeland into an epic, lush six-track, 52-minute album, Carpe Noctem proved on their second full-length, 'Vitrun', that they are very much Icelandic Black Metal's unsung heroes. Here we have the perfect blend of raw Black Metal with more expressive, expansive, almost psychedelic passages to create a record that stays in the memory long after the tonearm has been clamped back into its resting place.
Two of the five members also play in Misþyrming and it's hardly a surprise that the conversely jagged, chaotic yet strangely soothing soundscapes that have become synonymous with the trailblazing Icelandic scene are to be found in abundance here also.
It's worth noting, however, that this band – despite having somehow either by accident or design avoided much of the (deserved) hype surrounding Icelandic Black Metal – actually predates the aforementioned Misþyrming by a full five years. Debut album 'In Terra Profugus' arrived to an undeafening fanfare in 2013 (two years before 'Söngvar Elds Og Óreiðu'), with 'Vitrun' following in 2018 … again the reception was strangely muted considering that Carpe Noctem are such experts of their craft, consistently recording Black Metal of the very highest calibre.
Sleek yet sombre, subdued yet spectacular, 'Vitrun' is a record of profound contradictions, reaching ominously for the skies like the most treacherous peak in a blinding blizzard, death and danger all around but the warm embrace of death offering comfort all the while. What's the worst that could happen on this perilous trek? The perpetual peace of eternal sleep? How terrible could that be, really?
The innate dynamism of both Misþyrming and Svartidauði can be detected throughout Carpe Noctem's sophomore LP, although absolute savagery is kept to a minimum, the emphasis instead on generating atmosphere, energy and vitality through the skilled use of dynamics. The music is always varied, unpredictable and interesting, relying as much on stealth as belligerence to grab the listener's attention. Succeeding on all counts.
Evilometer: 666/666