CHAOS INVOCATION – BLACK MIRROR HOURS 2LP (World Terror Committee)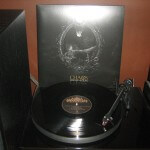 There's almost 68 minutes of Satanic Black Metal on 'Black Mirror Hours', so Chaos Invocation's sophomore full-length is ideal for the double-vinyl format. Not sure, therefore, why the eleven songs are squeezed onto three sides of the record instead of using up the fourth. I guess it's one of those inexplicable imponderables in life that are of little real consequence but bug the hell out of me for no rightful reason.
'In Bloodline With The Snake' was an excellent debut – was that really five years ago? – and the follow-up is also an impressive piece of work. While I don't believe this is quite as great as Chaos Invocation's previous album (it's definitely marred rather than enhanced by the presence of clean vocals and melodic parts), 'Black Mirror Hours' is nonetheless a commendable offering of underground Black Metal that should appeal to fans of Dødsengel, for example.
This 2LP edition features two 180g records and comes in a gatefold sleeve complete with a lovely 28-page A5 booklet. Fabulous presentation; better-than-average album.
Evilometer: 444/666