ABYSSAL – NOVIT ENIM DOMINUS QUI SUNT EIUS 2LP (Iron Bonehead Productions)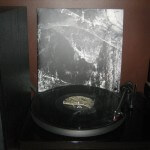 In the same vein as modern-day greats Antediluvian and Portal, Abyssal from the UK is another band that thoroughly deserves your attention. 'Novit Enim Dominus Qui Sunt Eius' from 2013 is their second full-length and it has just recently been granted a long-overdue vinyl incarnation by the ever-dependable Iron Bonehead.
The album comprises an hour's worth of disturbing, twisted and sinister dark doomy death with a hint of black. Controlled chaos within a menacing maelstrom is a thing of sheer beauty and it's even better when engraved onto a magnificent double vinyl feast replete with heavy duty gatefold sleeve (and cardboard inlay featuring lyrics).
Aurally and visually, 'Novit Enim Dominus Qui Sunt Eius' is a truly astonishing offering that I cannot recommend strongly or often enough. Just make sure you afford yourself plenty of free time to listen to it over and over and over again. Free time, now wouldn't that be something?…
Evilometer: 666/666