CIRCLE OF OUROBORUS / DROWNING THE LIGHT – MOONFLARES LP (Obscure Abhorrence Productions)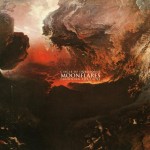 Don't know what's got into the water in New South Wales but Drowning The Light seem to have gone into some kind of crazy creative overdrive. This split album is their third release already in 2011 and their EIGHTEENTH since 2008. They released four full-lengths during the course of 2009 alone but, in fairness, have only unleashed one album since then, focusing more on splits and EPs. Still, I'd wager we're due a new LP fairly shortly!
While it's always a positive thing when such a worthy 'band' (Azgorh is the only permanent member) is so productive, the inevitable downside is that fans can become frustrated as they struggle to keep pace. Especially collectors like myself. I am royally pissed that I missed 'The Serpents Reign' and 'The Masters Empire' on vinyl and I'm still waiting patiently for the magnificent 'An Alignment Of Dead Stars' to emerge on black wax format. Collecting those frequent 10" EPs is a costly exercise, too … but, fuck it, I shouldn't be complaining. It's all about the music at the end of the day and DTL have no weakness in that regard.
To my ear, the four tracks on here are comparable to the material on 'A Pact With Madness'. It's typical Drowning The Light really – emotional, depressing, uplifting, spiritual, sombre, sorrowful Black Metal. Joined on these tunes by Blackheart and Wraith, Azgorh pays homage to the majesty of the moon, the woodlands, his mortality. He embraces death. He spills his heart out onto the record. There's a deep romance evident in his work but it's by no means cringe-worthy.
The highlight of four excellent songs on Side Two is the heartbreaking 'Silver So Cold On My Eyelids' – a BM epitaph that showcases DTL at their most powerful. If you're not familiar with Drowning The Light and you fancy some mid-paced, sorrowful Black Metal that sounds like it was recorded in the darkest forest with rivers rushing by, reflecting the pale glare of a naked moon, then you should check them out. They're a consistently impressive act.
Three offerings from Circle Of Ouroborus comprise Side One of this record and – honestly – I have no idea what to make of them. Suffice to say, it's as far removed from standard Black Metal as you're ever going to get on an Obscure Abhorrence release. For me, the jury's out on these experimental Finns. The music ticks a lot of boxes; it's unusual, daring, thought-provoking and oh-so-different. I would dismiss them instantly but for the fact that one of the two members (the guy who performs all the music) is also in Prevalent Resistance and Vordr. This has me thinking the restraint, panache and general strangeness on show here is very, very deliberate. Perhaps I'm just not getting it…
Ultimately, I don't particularly like the Circle Of Ouroborus contributions but I am reluctant to write them off. 'Walk Through Me' is more goth than BM and 'The Frozen Flare' reminds me more of The Damned than Darkthrone, while 'Trial Of Collision' – the pick of the three – had me thinking of Into The Woods and Solefald and even Joy Division. Despite my muted reservations, it serves as an interesting counterpoint / companion piece to Drowning The Light on the flipside and – all it all – 'Moonflares' is a record that's worth having in your collection. An inlay with band photos and an insert containing all the lyrics complete a nice package.
Evilometer: 444/666