CULT OF FIRE – TRIUMVIRÁT LP (Iron Bonehead Productions)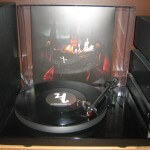 Shortly before unleashing the truly amazing 'मृत्यु का तापसी अनुध्यान', Iron Bonehead also made available Cult Of Fire's debut album, 'Triumvirát' on vinyl. I must admit this one completely passed me by first time around, so I was glad of the opportunity to acquire it at the second time of asking.
There's more sumptuous, epic Black Metal on offer from the eccentric Czechs but 'Triumvirát' isn't quite as arresting or as monumental as its successor. Having said that, there are very few albums that can stand toe to toe with the rather exceptional 'मृत्यु का तापसी अनुध्यान'!
This six-song offering is still a highly-enjoyable (if somewhat short) LP that's slightly occult and perhaps most interesting because it shows us where the Cult Of Fire journey begins. Not brilliant but still very, very good indeed and it comes in a grand gatefold jacket, too.
Evilometer: 555/666