DARKTHRONE – ARCTIC THUNDER LP (Peaceville Records)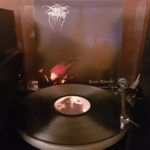 It's staggering to think that 'Arctic Thunder' is Darkthrone's 17th full-length. Even though by no means my favourite, this band has obviously had a bigger influence on my life than possibly any other as those seminal, legendary, stunning albums of the 'nineties were not just incredible but also trailblazing and hugely influential.
I wonder how many of the acts I appreciate today would even exist were it not for Darkthrone leading the way. Even those not directly influenced by the revered triptych that is 'A Blaze in the Northern Sky', 'Under A Funeral Moon' and 'Transilvanian Hunger' arguably take their cue from another entity who was.
Anyway, I lost interest in the work of Fenriz and Nocturno Culto the further they careered down the drab crust / punk / epic / heavy metal path(s), so much so that I stopped taking them seriously. Then, in 2016, they dropped this one.
Obviously, Darkthrone will never return to their roots or fully rediscover the glories of yore, but I was surprised that they recorded another album that I really enjoy. 'Arctic Thunder' is a superb collection – at times coming across like a hybrid of Clandestine Blaze and Black Sabbath – but there's just no getting away (ever) from how redundant and irrelevant the five LPs that preceded it are to me.
Evilometer: 555/666