AOSOTH – V: THE INSIDE SCRIPTURES LP (Agonia Records)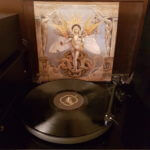 Aosoth's fifth and final strike is a monstrous slab of murky Black Metal disdainfully forced through a decidedly Death Metal funnel – or dare I say portal? – to create an uncompromising boot to the spatial solar plexus.
The audacious auditory assault that is 'V: The Inside Scriptures' is a manifestation of disgust, despair and indignation that gives me hope. Hope that the planet will be cleansed of the filth of humanity. Soon.
Evilometer: 666/666