DARVULIA / SEKTARISM – DARVULIA / SEKTARISM LP (Nuclear War Now!)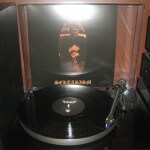 And now for something completely different… This collaboration ventures far beyond the confines of Black Metal into territory that is ambient, experimental and – dare I say it? – ritualistic. Each band offers one lengthy track to produce a split record that's certainly interesting, though hardly essential.
It's a decided departure for Darvulia, who sound completely different on their 17-minute contribution, 'Mort Foetale', than I've ever heard them before – somewhere between Defuntos, Silencer, Abruptum, Impavida, Do Make Say Think and The Twilight Zone. Enjoyable, impromptu stuff and the doom-ier Sektarism ('Punition Divine'; 21 minutes) is okay, too.
It's refreshing to hear something unusual for a change. And it's unusual to encounter something unusual that isn't shit. So, over all, I'd recommend this split.
Evilometer: 444/666