DROWNED – IDOLA SPECUS LP (Sepulchral Voice Records)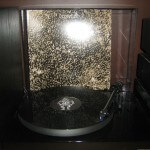 Drowned is such a cool band. One of them used to be in the mighty Necros Christos and another one plays live with mightier The Ruins Of Beverast. Good company to be keeping (or not keeping, as the case may be, I suppose).
Debut full-length 'Idola Specus' arrived this summer – a full 21 years after Drowned's first demo was recorded – and the vinyl edition was unleashed in October, 2014.
On it, we are treated to some magnificent, masterful, hypnotic, mazy, occult Death Metal, with strange, dark lyrics and a truly underground feel, despite the LP boasting a solid-as-fuck production. With not one but two inserts, this is a rousing, rumbling record that both looks and sounds fantastic.
Short-ish at 37 minutes but there you go.
Evilometer: 555/666