ETERNUM – THE DEVOURING DESCENT 2LP (Iron Bonehead Productions)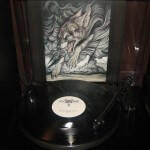 Even though 'The Devouring Descent' is probably my least favoured of Eternum's three full-lengths to date, it is still a great album, which really comes into its own in the double-vinyl, gatefold-jacket edition bestowed upon us by the ever-dependable Iron Bonehead.
As I've intimated in previous reviews of 'Veil Of Ancient Darkness' and 'Summoning The Wolven Spirit', Eternum is one of the rare Black Metal acts that can venture into lush, majestic terrain without becoming a complete farce. There are lots of expansive, acoustic, atmospheric passages on this epic, hour-long album – certainly more so than on either of its predecessors – but Eternum still manages to sound somehow raw, authentic and relevant.
Evilometer: 666/666