DROWNING THE LIGHT – DIABOLICAL WINTER SPELLS 10″ EP (Obscure Abhorrence Productions)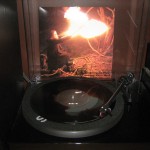 Another 10" from Drowning The Light and another really great listen. Recorded over four winters, 'Diabolical Winter Spells' contains five songs and clocks in at around 22 minutes (including the time it takes to flip the record over…). Obviously, being just a demo or an EP or whatever you want to call it, this record isn't going to change your life. But it's still worth having.
Anybody who enjoys high-quality raw, atmospheric Black Metal should enjoy this (i.e. everybody reading this??? If you don't, seriously, fuck off!). If not sure whether or not you should part with a few quid, check out the songs on YouTube or something.
I can't think of a single reason why I should utter any more on the matter (apart, perhaps, from the observation that the last song, 'Now With Hearts Of Frost We Chant, To Ignite The Flame Of The Old' is right up there with DTL's best).
Evilometer: 555/666