LLUVIA – PREMONICION DE GUERRA LP (Fallen Empire Records)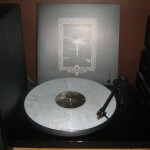 Epitomising the pioneering new breed of analogue-friendly, raw Black Metal that's bringing the sub-subgenre in an exciting new direction, one-man band Lluvia crafts long and complex psalms with an abundance of mood and tempo changes. It's a winning formula when done correctly and the Mexican comes up trumps on his debut full-length, 'Premonicion De Guerra'.
Very much in the vein of Fell Voices or Ash Borer – but stamping his own unique twist on things –  sole member Lord Vast is an undisputed master of his chosen art form. One epic, swirling, sprawling anti-song is delivered on each side of the record (though strangely listed as eight individual tracks, they all flow into one another; 46 minutes in total). For me, Side I is one song and Side II is another…
Although there's plenty of variety, the aggressive and more subtle passages join together seamlessly, resulting in a beautifully-flowing album. Even during the calmer parts, the harrowing sense of dread never dissipates, resulting in an offering that is both uplifting and disturbing at the same time. With a large gatefold cover, a small insert and a heavy slab of (marble-coloured) vinyl, this record looks and feels as fabulous as it sounds.
Verdict: a compelling consignment of raw, atmospheric Black Metal; definitely worthy of support.
Evilometer: 666/666