EMBRACE OF THORNS – SCORN AESTHETICS LP (Iron Bonehead Productions)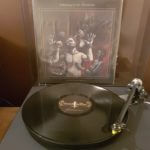 Embrace Of Thorns' fifth full-length is a pummelling maelstrom of Blackened Death Metal that largely eschews variety, embellishment and beautification in favour of all-out aggression.
While sparse classic Black Metal parts, atmospheric Death Metal nods and gear changes are reluctantly dispersed across 'Scorn Aesthetics', for the most part the record focuses primarily on battering and bludgeoning in a relentless, merciless and decidedly violent fashion.
Ferocious vocals, machine-gun drumming and razor-sharp riffs jockey for pole position as a cacophonous torrent of rage steams through the speakers, leading one to wonder if restraint, balance and variation have any place in music designed to celebrate darkness and disgust.
Whatever the fuck that means.
Evilometer: 666/666