MALUM – NIGHT OF THE LUCIFERIAN LIGHT LP (Helter Skelter Productions)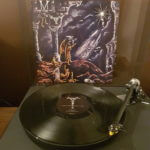 Considering that it brings nothing new to the sacrificial altar (something I have no problem with, whatsoever), Malum's second full-length album, 'Night Of The Luciferian Light', is refreshingly refreshing.
Essentially, what we have here is 46 minutes of good old-fashioned, evil-sounding Black Metal delivered with intent, purpose and no little class.
The seven spells are fantastic and the overall vibe of the record is bang on. Ritual titles hint at some pretty nefarious, Satanic deeds in the name of the dark lord but I can't gain a greater insight as the vocals are predominantly standard indecipherable BM shrieks (alongside unholy chants) and the text in the accompanying booklet is so miniscule that I couldn't read it even if my stupid fucking eyes worked any better than my stupid fucking ears.
Evilometer: 666/666