EVILFEAST – WINTERMOON ENCHANTMENT (Nykta)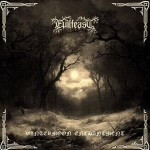 Five sprawling tracks of atmospheric Black Metal and three enjoyable instrumentals combine to deliver almost 70 minutes of intriguing stuff. For me, there has always existed a very fine line between atmospheric and rubbish in BM, so it's a relief to report that GrimSpirit manages to execute some very atmospheric fare without eschewing the sense of harsh menace that is so essential if an artist is to remain true to the Black Metal flag.
On 'Wintermoon Enchantment' – his fourth full length and first in three years – the sole Pole behind this project demonstrates that he has honed his art to a fine tee, seamlessly blending dissonant, raw-ish Black Metal with more ambient parts, culminating in an album that's both ugly and beautiful, worthy of listening by candlelight or perhaps on earphones as you walk through dense woodlands beneath the pale glow of a shimmering moon.
While I believe this is a very good album within its own obvious limitations, I should stress that I wouldn't expect fans of Marduk or Dark Funeral to appreciate it. But those who are fond of bands like Celestia, Drowning The Light, Marblebog and perhaps even Graveland and their ilk might find something here to sink their vampyric teeth into. There are a lot of synths on this CD but they don't spoil it so I'm giving 'Wintermoon Enchantment' a definite thumbs-up.
Evilometer: 444/666