LEVIATHAN – TRUE TRAITOR, TRUE WHORE (Profound Lore Records)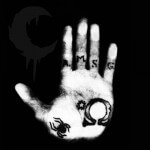 I have never been disappointed by a Leviathan album. Without exception, Wrest's output under this moniker has been consistently brilliant. And the new album 'True Traitor, True Whore' more than lives up to my lofty expectations. Not that I actually had any expectations because – like most of you – I didn't even realise this full-length was in the pipeline.
The silence from Wrest regarding his main solo project was almost deafening since the release of 'Massive Conspiracy Against All Life', which landed three years ago and was hyped / billed as Leviathan's last-ever album. Since then, the mainman has been caught up in some rather unsavoury news stories, which we should assume to have no substance whatsoever seeing as there were no criminal charges and Wrest – thankfully – is still at large.
But the whole experience has obviously had a very profound effect on him as his creative juices started to flow again and with oh so much vehemence and invective! Doesn't take a genius to work out that this collection of tunes is aimed at the female who made those accusations – the album title says it all really, not to mention song titles like 'Her Circle Is The Noose', 'Every Orifice Yawning Her Price' and the monumental 'Harlot Rises'.
Thankfully, the raging muse so evident in the lyrical / conceptual content doesn't manifest itself in the actual music, which remains focused and incredibly catchy by Black Metal standards. Of course, there's always been a certain amount of aggression in Wrest's work anyway (fuck me, it is Black Metal after all), but what I mean to say is that these songs are no more raw and visceral than any of his previous offerings. Instead, what we have is prime Leviathan. Superb, otherworldly Black Metal with a keen psychedelic, psychotic edge.
The production is immaculate and the play-off between the cavernous, harsher components and the hypnotic, more ambient textures is a joy to behear. All in all, this is an exceptionally good volume of work that easily measures up to everything else in this towering Black Metal leviathan's astonishing back catalogue. 'True Traitor, True Whore' is worthy of a place in every collection.
Evilometer: 666/666