FACELESS BURIAL – SPECIATION (Dark Descent Records / Me Saco Un Ojo Records)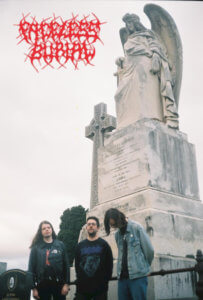 Australian trio Faceless Burial go back to the future again for their sophomore full-length, 'Speciation', which is deeply rooted in the foulest most fetid tradition of Old School Death Metal – instantly bringing to mind all the greats – whilst also delivering something fresh and focussed. Thus, while the six lengthy tracks on this album do indeed represent a trip down memory lane for those of us who were there first time around, this is not merely an exercise in watery-eyed nostalgia as Faceless Burial bring their own technically-proficient, uncanny musical prowess to the graveside to produce a ferocious, devastating record that's more than adequately crushing and pummelling in its own right.
But it's not all about violence and aggression. A willingness to shift gears and tailor the tempo as required to suit the desired mood results in an abundance of variety and dynamism across the 38-odd minutes, albeit strictly within a rather rigid OSDM template. The deceptively-restrained 'Limbic Infirmary', for example, takes its gory, twisted time for the most part, although the hammering drums and sick, tortured vocals suggest otherwise.
Every instrument is prominent in the mix, even the bubbling bass, splintered riffs stabbing through the speakers, an unorthodox technical bent never far from the surface, bringing to mind Gorguts as much as Death themselves or Immolation. But it's difficult and perhaps unfair too to pick out band names here as Faceless Burial wear all their influences on their sleeves and yet manage not to sound exactly like any of them.
The dreamy, doomy opening to 'Speciation' will get your head nodding if not banging in approval, the grime laid on thick and heavy, every note coated in rancid filth and decay, the album constituting a timeless convergence of old and new, ancient and modern along Death Metal's perpetual but every-evolving pathway.
Evilometer: 555/666