IDOLATRIA – TETRABESTIARCHY (Signal Rex)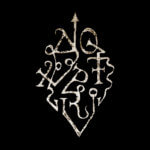 There's no mistaking the inherent evil and diabolical darkness that permeate the 33 malevolent minutes constituting 'Tetrabestiarchy', the sophomore full-length from irreverent Italian quartet Idolatria. With their focus firmly fixed on forging orthodox Black Metal in the traditional sense, Idolatria do nevertheless add ample ingenuity (and no little intricacy) to the tried and trusted – such as the ominous rolling drums that are most noticeable on 'Noctule – The Emperor Of Scourge' – and have successfully crafted an interesting album billowing with foulness and intent.
A glance at the song titles is enough to confirm that the band members won't be losing any sleep over whether or not face masks remain mandatory in church settings for the foreseeable future – scorn, mockery and contempt is what they aim in the direction of idiotic religious advocates. And rightly so. Nothing can save us.
Unlike much of what Signal Rex has released in the past, 'Tetrabestiarchy' is not particularly raw nor grim. To the contrary, a precise and detailed production overseen by Stephen Lockhart at Studio Emissary affords uncanny clarity to proceedings, every shard of nastiness and derision gliding through to slice the supplicating fool. The more melodic, understated moments are executed and handled expertly, seamlessly and subtly blending in with the harsher parts.
Idolatria don't overstay their welcome, either. Bookended by an intro and outro, four lengthy unholy hymns make up the main body of the album. Sacrilegious chants usher out 'Vulture – The God of Last Rites', a crippling knee to the groin of the paedophile priest before 'Vibrant Flare of Their Coming' provides a suitably disdainful denouement.
Evilometer: 555/666