GOATMOON / DEAD REPTILE SHRINE – WINTERFOREST LP (Bestial Burst)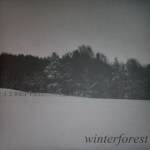 I bought this all-Finnish collaboration because I've been impressed by Dead Reptile Shrine's previous work, but it's Goatmoon who steal the show here with a fantastic 25-minute song comprising Side A. Goatmoon's contribution is called 'Winterforest' – appropriately used as the title track of the split album – and is one of the best epic Black Metal songs you're likely to hear this side of Valhalla.
It's rawer than an open wound and shriller than the shriekiest shriek in Shriekville. But it's also melodic and atmospheric, with plenty of anthemic, bagpipe-style emotive guitar playing, basic wooden-box drums, eerie piano and the accompaniment of howling wind in the background. This is career-changing stuff, the likes of which Goatmoon's two albums only hinted at.
If Mr Gravedesecrator continues down this road on future releases, he will certainly maintain my already-more-than-piqued interest. There are lots of tempo changes between slow and mid-paced (including many long instrumental passages) and Goatmoon never let the overall quality level drop. A close encounter of the black kind. Utterly superb stuff!
Dead Reptile Shrine was the side I was looking forward to most and his five contributions do not disappoint. You can't really go wrong with DRS and these songs are typically weird and wonderful.  More understated and less bombastic than Goatmoon but almost as memorable in a low-key and unheralded sort of way.
A lovely green-vinyl record with minimal, trademark nature-inspired artwork (perfectly conjuring the chill of the northlands) completes a wonderful package.
Evilometer: 555/666