HÄDANFÄRD – SMUTSIGA SINNEN LP (Ancient Records / Afgrundsvisioner)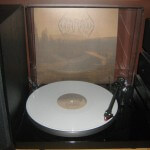 The incredibly-prolific Ancient Records has just released a new batch of albums – all on vinyl, as ever – and one of these is Hädanfärd's debut full-length, 'Smutsiga Sinnen'. The same two guys are generally behind literally everything this label produces and it's the usual suspects here again, with Sir N the one-man visionary behind Hädanfärd and his partner-in-crime Swartadathuz overseeing the release as label head honcho.
It's impossible not to admire the industry and underground ethos of everything they do. But, away from the back-slapping and arse-licking, the music is – for the most part – fascinating, too. While far from overwhelming, 'Smutsiga Sinnen' is a minor triumph in that it manages to weld fairly basic tunes with a Black Metal template of sorts to produce a unique listening experience: a mid-paced work of atmospheric and easily-accessible music that could just as easily be '80s pop (well, not quite…) but for the vocals.
At times, this is sickeningly melodic, but there is a deranged, crazed sense of dementia pervading the entire album that elevates it above your average melodic Black Metal offering. I also accept that without the melody, it couldn't – and wouldn't – work at all. Imagine what Woods Of Infinity would sound like if they weren't actually complete and utter shite and you are somewhere close to understanding what Hädanfärd brings to the table.
Aesthetically, the artwork and presentation are top notch, making for a very pleasing release all round.
Evilometer: 444/666