IRAE – RITES OF UNHOLY DESTRUCTION LP + 7" (Discipline)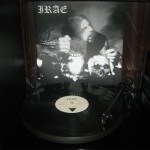 This compilation album has been vomited forth to mark Irae's tenth anniversary. Thirteen songs have been re-recorded from across the one-man band's discography (I'm way too lazy to check exactly which releases they've been culled from…) and etched onto vinyl for posterity. A running time of almost 55 minutes means that an additional 7" was required so that all the songs could be included – you'll find 'Era Of Satan' and 'Will To Exterminate' on opposite sides of the smaller record. Generous.
I've always been a fan of Vulturius' offerings under this handle and thoroughly enjoyed the last compilation, but even I have been pleasantly surprised by how truly majestic and fantastic these re-crafted songs sound. Don't get me wrong, it's all still very much of the  rawest underground – but there's a sharp, crisp freshness to proceedings as well, which I wasn't expecting (and really appreciate).
I'm not going to waffle on any further about this release other than to point out that it is utterly fantastic and essential for anyone who enjoys cavernous, obscure, underground, analogue Black Metal. 'Rites Of Unholy Destruction' makes an absolute mockery of more-mainstream, lowest-common-denominator, accessible-to-the-masses Black Metal. It's a glorious, triumphant breath of fetid air but – here's the downside – is limited to a mere 166 copies and not available on CD. So act now or live to regret it.
Evilometer: 666/666