HIC IACET – THE COSMIC TRANCE INTO THE VOID LP (Iron Bonehead Productions)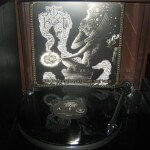 I've been spinning Hic Iacet's debut full-length 'The Cosmic Trance Into The Void' on a semi-regular basis (busy, busy, busy…) for the best part of two months now and this is one of those records that you won't tire of hearing. I think it would be an injustice to pigeonhole this band or to compare them to other artists – even though a few do spring to mind.
Suffice to say that this is another stonker from the ever-dependable Iron Bonehead, replete with some truly impressive anonymous Black / Death Metal and all housed within a splendid gatefold jacket. Underground art given a very professional treatment!
You really can't go wrong with this album but, if you're sceptical, why not check it out on the label's Bandcamp page before investing?
Evilometer: 666/666