FHOI MYORE / WYRMS – LES LIMBES POURPRES / MEHXÔHORR – LES IV DIMENSIONS COSMOGONIQUES LP (Ossuaire Records)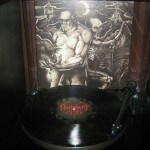 Regular readers will know that I've been keeping an eye on Fhoi Myore for quite some time, having previously given some time to their self-titled debut full-length and split with Pestiferum three and two years ago respectively. Thus, seeing as it is a vinyl release, 'Les Limbes Pourpres / Mehxôhorr – Les IV Dimensions Cosmogoniques' was always going to catch my attention.
This impressive split comes inside a luxurious gatefold jacket. No inserts or posters … instead the record gets straight to the fucking point! Uncomplicated, unsophisticated, unpretentious, in-your-face Black Metal rips through the speakers from both sides of the black wax.
There are no gimmicks here at all; just aggressive and pretty rapid-fire underground Black Metal for the most part, done the way it was supposed to be. Both artists excel and I have no hesitation in recommending this gruff and unapologetic record which comes with all the trimmings of a kick to the gonads. Speaking of which, scary cover…
Evilometer: 555/666