HRIZG – ANTHEMS TO DECREPITUDE (Moribund Records)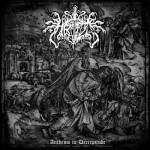 Here's one that'll take you back in time. 'Anthems To Decrepitude' reminds me of the days when Black Metal was just a glint in Euronymous' eye. When I listen to it, I can almost detect a faint scent of charred timber in the air, can nearly warm my frozen bones in the glow of embers as civilization and conformity are razed to the ground; it could easily have been recorded in Scandinavia a score of years past. But it actually hails from Spain, the eponymous Hrizg being a self-proclaimed orc who is indebted for his sound to the forbearers of our beloved scene.
There's nothing modern or avant-garde about these tracks. The music is about as progressive as a caveman's club, thankfully. Essentially, what we have is a straightforward Black Metal CD, executed and presented the way it should be, with no airs and graces, no pretentiousness and no gimmicks. 'Anthems… ' is mid-paced for the most part, with just the right mix of blackness and atmosphere (kind of like old Graveland) to hook even the most cynical listener. The sense of forlorn majesty at work on songs like 'Ab Aeterno' and 'Opposite To Light' is worth the price of admission alone.
In keeping with its adherence to celebrating times of yore, the album does threaten to unravel at times, with the production barely holding it together, but this is not a problem, merely adding to the charm. I'm amazed to note that Hrizg recorded his second full-length three years ago – it's been lying in the vault until now. But it's a worthy addition to the Moribund canon that won't bring you anywhere new, instead ushering you along familiar territory, where some of BM's greats walked before.
Impossible to go wrong with this one.
Evilometer: 444/666