HUMAN SERPENT – FOR I, THE MISANTHROPIST LP (Ogmios Underground)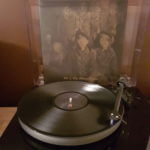 Greek duo Human Serpent's second full-length, 'For I, The Misanthropist', delivers 36 minutes of thoroughly enjoyable Black Metal – nine slabs of fierce, nihilistic and raging venom … not really a sound you would readily associate with Hellenic BM.
Even though it's not doing anything particularly fresh or trailblazing, this is one of those records that's so commanding, accomplished and confident yet belligerent and aggressive at the same time that it cannot be faulted.
Certainly something of an obscure, flying-off-the-radar gem, the LP comes in a plush gatefold sleeve and is well worth investigating. Take a listen on Bandcamp and see if you can resist.
Evilometer: 555/666