SARKRISTA – SUMMONERS OF THE SERPENTS WRATH LP (Purity Through Fire)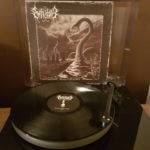 As well as being apostropheless, 'Summoners Of The Serpents Wrath' is a glorious and majestic 50-minute homily to the horned one that should bring one big, nasty, evil smile to the face of both the devout and those who just like menacing music.
Yet again Sarkrista deliver rasping, timeless Satanic Black Metal of the very highest calibre, perhaps best demonstrated by the captivating sixth sermon, 'He, Who Liveth and Reigneth Forevermore' … the undoubted highlight of a wondrous LP.
This time, the record comes with an insert and lyrics, which make for an entertaining read. Exceptional.
Evilometer: 666/666