HYBAN DRACO – DEAD ARE NOT SILENT (self-released)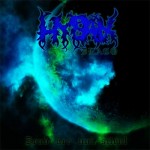 I'd never heard of Hyban Draco until they contacted me last month to see if I'd like a copy of their sophomore CD, "Dead But Not Silent" to review. I agreed and the disc promptly fell through my battered, dusty letterbox, containing ten tracks of melodic Black Metal competently delivered by four very young Spanish musicians. This isn't the sort of eerie, raw underground BM I normally listen to but it does what it does very well and I have to admit it's well-executed.
One of the album's real strengths is the ropey production, something that always helps add an extra dimension of credibility in my book. Unfortunately, my personal taste is pretty discriminate and this album isn't my cup of tea at all but if you like the idea of well-composed and -performed melodic, spacey, cosmic Black Metal then you should check out this unknown Iberian quarter.
Hyban Draco are talented guys and I'm sure there will be many who will appreciate their style of BM.