VESANO – GRITOS DO TEMPO (Dunkelheit Productions / Bubonic Productions)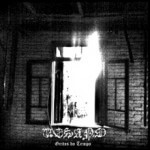 Is that a treasure I see before me? For nary the first time, I find myself richly rewarded for delving deep into the underground, granted suitable recompense for the investment of time and money such endeavours demand. A gamble, some might say, but not I, nay. For the evidence before me, in my hands and more importantly in mine ears, doth confirm that no gambles, no risks were taken. When treats like "Gritos Do Tempo" are at stake – can be accumulated for a mere pittance – where is the potential loss? Ah humbug the fuck with it all, suffice to say this album rocks like a bastard.
Vesano is a Brazilian entity that specialises in an addictive strain of raw, lo-fi, simplistic Black Metal, mainly of the repetitive, mid-paced variety. The music is so uncomplicated, so basic and so unadventurous that it would be easy to miss the point entirely, to overlook how creative this band is, how organic, how they hone the most straightforward notes and chords into a majestic Black Metal soup, one that tastes vile, so loaded it is with pathos and sombre salty decrepitude, stirred by hands of melancholy, enhanced by accompaniments of disgust. Not to mention lashings of longing.
The compositional skills at play are nothing short of startling, culminating in a profound listening experience that's impossible to ignore. The seven songs spread out over 49 minutes, escorting you to a dark and lonely yet blissful place. Similar in tone and texture to the latest offering from Grimlair, "Gritos Do Tempo" is nonetheless wholly unique in the magic it weaves – even with a nod to Lynyrd Skynyrd (!) – and is one of the most essential Black Metal albums you're going to hear this year. But act quickly: this collaboration between these two exceptional labels is limited to a mere 500 copies and will henceforth in all likelihood disappear forever.
Evilometer: 666/666