ILL OMEN – ENTHRONING THE BONDS OF ABHORRENCE 2LP (Nuclear War Now!)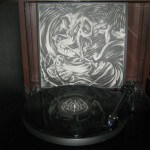 'Enthroning The Bonds Of Abhorrence' is a crushing experience. Haunting, ethereal Black Metal imbued with the desperate pathos and hopeless despair of funeral doom, Ill Omen's second full-length constitutes a bleak and harrowing journey. Destination: darkness, death, dejection. If the void had a sound, this would be it.
The follow-up to the exceptional debut, 'Divinity Through Un-creation', was one of my most anticipated releases of the year and it has not disappointed. A full hour of dementia with no track listing, no respite and no remorse…
The real beauty is that, despite repeated listening binges over the past fortnight or so, I know I haven't fully absorbed the true scope of this album yet; for certain, there is so much more here to explore and enjoy. To cut to the chase, this is probably as good as it gets.
Evilometer: 666/666