MYSTRUIN – GÅNGET ÄRO LJUSET LP (Amor Fati Productions)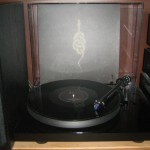 The vinyl edition of Mystruin's debut full-length 'Gånget Äro Ljuset' looks resplendent and the enclosed booklet with artwork and lyrics is a joy to behold. Aesthetically and visually, this was a top-class purchase. Musically, the record is really good but only briefly borders on excellent. Essentially, we get some decent underground Swedish Black Metal with shouted vocals.
Side A really is over in a flash: three songs, less than 15 minutes. The remainder of the LP comprises two better, longer tracks that clock in at nine and eleven minutes respectively. At times, it reminds me of compatriots Woods Of Infinity, which is no good thing; in general, this is a release that looks amazing and sounds better than okay.
Evilometer: 444/666