IMPETUOUS RITUAL – UNHOLY CONGREGATION OF HYPOCRITICAL AMBIVALENCE 2LP (Profound Lore Records)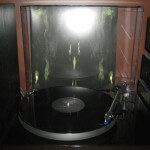 I yearn to hear it even better. To get my ears beneath and beyond the impenetrable, dismal doom and gloom, to bypass the dull production and actually hear everything that's going on. But 'Unholy Congregation Of Hypocritical Ambivalence' won't afford me such a luxury. Evidently, it was recorded in a bunker by Antipodean cavemen.
Perhaps if I change the settings on my amplifier; switch off the Direct Sound or something… Maybe if I lower the bass a little, tweak the treble. I've tried earphones but still the sound remains leaden and frustratingly beyond me. I'm going to invest in one of those headphone amps and I'm also going to have my ears syringed. Worth a try, eh?
On their second full-length, Impetuous Ritual – who tellingly share members with Portal and Grave Upheaval – have delivered one of those albums that's strangely yet deliriously inaccessible such is its cavernous, underground (literally, physically…) nature. In a way, it's like the itch that just won't scratch. In the end, you grow to love that itch just the way it is. Because you are genuinely disturbed. And it comforts you.
The murk is the sound.
Evilometer: 666/666