SWALLOWED – LUNARTERIAL 2LP (Me Saco Un Ojo Records)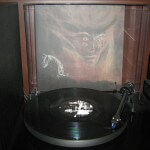 Clocking in at almost 54 minutes – including a whopping and utterly monstrous 25-minute sixth and final track, 'Libations' (which takes up all of Side C) – Swallowed's debut full-length really does offer a lot to get one's teeth into. I've had this album for the best part of two months now and have held off on writing a review because – truth be told – I'm not sure what I can say to best sum it up. A lot going on here.
'Lunarterial' is a big and bold album, full of predominantly slow-to-mid-paced, ominous, oppressive, suffocating Death Metal with some hints of doom. At times bordering on drone-y and dreamy-dreary a la Khanate, it doesn't quite live up to my unreasonably-high expectations, but the Finnish duo have nonetheless delivered a fantastic piece of work that deserves to be heard.
The double-vinyl edition comes in a gatefold jacket, with generous eight-page booklet including basic artwork and some scrawled lyrics as well as the by-now-customary blank Side D (which in this case was obviously preferable to splitting the last song in half…). All in all, this is a fine record that you should listen to rather than read about.
Evilometer: 555/666