KAEVUM – KOSMOS ERWACHE (Darker Than Black Records)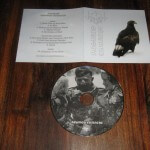 On 'Kosmos Erwache', we are presented with almost an hour's worth of demo material from excellent Norwegian horde Kaevum. The first five songs are culled from the 'Prakt' demo tape (2008); the next four come from 'Nordnorsk Hatmusikk', which originally saw the light of day in 2010; and a previously-unreleased 'Brilliance Of The Stars' completes the curse.
As with the band's debut LP, 'Natur', this is superb stuff. Kaevum is one of those entities that it's just impossible not to like. If you have any kind of an appreciation for organic-sounding, no-frills Black Metal, then this is sure to appeal to your unsophisticated palette.
Overtly raw but also obliquely melodic, the music deviates from shrill to sublime seamlessly, enchanting, entrancing and leaving the listener longing for more. All the boxes are ticked and – without further ado – the bottom line is that you'll be hard-pressed to find better underground BM anywhere.
To my ears, this is simply fantastic Black Metal cooked using all the right ingredients and possessed by a mournful, forlorn, grim spirit that cannot be faked.
Evilometer: 666/666