KALMANKANTAJA – VIIMEINEN VIRSI LP (Purity Through Fire / Hammerbund)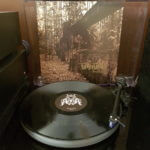 Epic, sad, melodic and full of longing, 'Viimeinen Virsi' is one of four full-lengths that were released by Kalmankantaja during a very productive 2014 calendar year.
These Finns have recorded and released a lot of music within a relatively short period of time and I've noticed quite a bit of it surfacing on vinyl of late.
Atmospheric, depressive, heartbroken, lush and uplifting / downcast, pitiful, poor-me Black Metal is very one-dimensional, though, and essentially dull, so I can't imagine why anybody would want more than one or two records in this style.
Which makes me wonder why I jumped in, like a drunken blind man at a pool party. My money is gone and this is a fitting soundtrack to my ensuing sadness and self pity.
Evilometer: 111/666