TCHORNOBOG – TCHORNOBOG 2LP (Fallen Empire Records)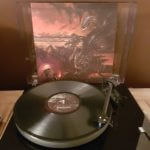 Tchornobog's self-titled debut full-length is an extraordinary work of art that really comes to life in the glorious double-vinyl format. Having said that, I am sure this would sound great on CD, tape, MP3 or erupting from a volcano either as it is genuinely exceptional.
Comprising four epic offerings of stunning Black / Death Metal that refuses to be pigeon-holed, 'Tchornobog' is all the more astonishing a feat when one considers that the Ukrainian-born visionary behind this one-man operation, Markov Soroka, was still only in his 20th year when the album was recorded at Studio Emissary, Reykjavik, in 2015 (quite reminiscent of the equally-awesome, 'Tabernaculum', actually).
There's so much to appreciate here that I don't know where to start. The album is ambitious and eclectic; there's saxophone, trumpet, grand piano and cello included; terrific artwork and a gatefold jacket; fascinating lyrics; a tremendous sound and production; wonderful compositions and execution; immense musicianship, including some magnificent drumming courtesy of Svartidauði's very own human octopus Magnús.
Cutting to the chase, this splendid, jaw-dropping 65-minute album really is a wondrous accomplishment.
Evilometer: 666/666