KROWOS – ENTHRONING OUR END (Schattenkult Produktionen)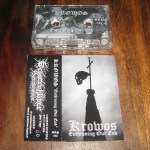 Having just booked another batch of eight new underground tapes from Schattenkult Produktionen yesterday, I took some time to listen back over some items from the last consignment procured from this unheralded German label. 'Enthroning Our End' from Krowos is an album that I probably should have acknowledged previously but time limitations invariably seem to frustrate me.
Anyway, it's almost half an hour long and contains some lovely, freezing underground Black Metal art. Raw yet devilishly melodic (reminiscent in a way of Vardan…), 'Enthroning Our End' is a superb DIY effort from an impressive horde of Sicilians. If still available, you can pick this up for just €3 and don't forget to look into Schattenkult's impressive clutch of brand new releases while you are at it!
Evilometer: 555/666