ACUALLI – PACT OF POSSESSION (Crepúsculo Negro)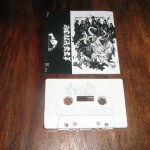 At 15 minutes, 'Pact Of Possession' certainly isn't the longest tape I've ever heard. But thankfully, what it lacks in quantity, it more than compensates for in quality. And, at the end of the day, quality is all that really matters. Especially in the underground … and when we are talking about a demo cassette.
There are five excellent Black Metal work-outs on here as well as a nice instrumental offering. Although this is very much of the deepest underground, the songs are well recorded and executed and the sound is more than adequate for a tape / demo. Mostly, proceedings are harsh and raw and typically Crepúsculo Negro fare – but there are some insidious melodies lurking beneath the surface, which add greatly to the whole experience.
So, all things considered, Acualli is actually good.
Evilometer: 555/666