MORBID ANGEL – FORMULAS FATAL TO THE FLESH 2LP (Earache Records)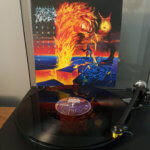 Even though it was a frankly unbelievable 22 years ago, I can still distinctly remember initially giving Morbid Angel's fifth album, 'Formulas Fatal To The Flesh', a lukewarm reception when it was released in 1998. The Floridians were of course one of the true pioneers of Death Metal and had already delivered at least two landmark LPs in the form of genre-defining debut, 'Altars Of Madness', in 1989 and its magnificent follow-up, 'Blessed Are The Sick', two years later. However, larger-than-life frontman David Vincent, whom I erroneously perceived to be the essential driving force behind the band, had departed and 'Formulas Fatal To The Flesh' was introducing a new, unknown vocalist / bassist, namely Steve Tucker. The line-up change was worrying. My expectations were low, to say the least…
However, I soon discovered that the real alchemists in Morbid Angel were trailblazing guitar contortionist and songwriter extraordinaire Trey Azagthoth and human octopus drummer Pete Sandoval – the master of the blastbeat and surely one of metal's most dynamic percussionists ever. Despite his undoubted charisma, Vincent was not indispensable after all and Tucker proved to be a more than worthy replacement. Indeed, 'Formulas Fatal To The Flesh' was recorded as a tight three piece and the chemistry between Azagthoth, Sandoval and Tucker on this immense 52-minute behemoth is nothing short of breath-taking.
'Blessed Are The Sick' – an ambitious ode to the ancient ones, possessed with a dark spirit and imbued with a succession of delightful interludes that elevate it to a whole other level – had been my favourite of the four previous Morbid Angel full-lengths and I think it's probably fair to surmise with the benefit of hindsight that 'FFTTF' is its sister album, a natural successor despite the fact that 'Covenant' and 'Domination' separate them on the timeline continuum.
This album stands the test of time with uncanny ease. Enhanced by a Full Dynamic Range remastering a couple of years ago (Earache are specialists in reliving past glories), it sounds fresh and vibrant and would make a mockery of the vast majority of Death Metal records being released today. It's packed with prime, acrobatic occult Death Metal excellence (Is 'Covenant Of Death' not one of the finest songs of all time?), while the instrumental interludes 'Disturbance In The Great Slumber' and 'Hymn To A Gas Giant' not only provide respite from the barrage but also offer inspiration.
Morbid Angel always liked to do things their own way and what a curveball they produced when closing the album with not one but three instrumentals, which meant that four of the last five tracks were in fact instrumentals, the rather psychedelic ten-minute epic 'Invocation Of The Continual One' the curious odd-one out. As Death Metal denouements go, this was head-scratching stuff – and still is! – but the gamble paid off a treat and the utter majesty of Sandoval's devilish, tribal stickwork on the immortal 'Hymnos Rituales De Guerra' ensures that the album remains thoroughly entertaining throughout – an undoubted masterpiece from start to finish.
Time is the harshest judge of all, the fiercest critic, but – tellingly – it can't lay a glove on 'Formulas Fatal To The Flesh' – arguably Morbid Angel's crowning glory and undoubtedly an essential, inimitable Death Metal release.
Evilometer: 666/666