CAULDRON BLACK RAM – SLAVER (20 Buck Spin)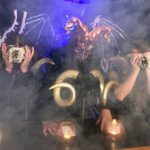 There's plenty of intrigue and enjoyment to be found in Cauldron Black Ram's fourth full-length, 'Slaver', which is sure to hold your attention over the course of its 36-minute duration. The Australians have always adopted a decidedly unique and novel approach to Black / Death Metal – a tactic which is besieged with clear danger (for every Nile in the world there are a hundred Lawnmower Deths), but they avoid falling into the dreaded 'novelty band' category and instead have produced hereon a thoroughly commendable collection of memorable songs.
Featuring two members of cult Funeral Doom outfit Mournful Congregation, Cauldron Black Ram focus more on debauchery than despair, their mid-paced hybrid of Death Metal and Black Metal bouncing along rather jubilantly, like a less-theatrical Cultes Des Ghoules or Grand Belial's Key without the overt anti-Christianity, even hints of Autopsy lurking in the cocktail of gruesome skulduggery (no more so than on 'Graves Awaiting Corpses') as well as keen dollops of Heavy Metal and Thrash Metal – quite the concoction.
Rolling, spiralling drums are to the forefront, maintaining the momentum with mockery and malevolence as blood is shed with gleeful indifference on the band's first album in six years, the riffs simple but effective, as are the strangely futuristic vocals. Strong song-writing is to the fore as Cauldron Black Ram embellish their hard-earned reputation as the darkest storytellers on the high seas. Likewise, the musicianship is flawless. Thus, 'Slaver' is an album that you couldn't really regret buying.
Evilometer: 444/666