NAPALM DEATH – THROES OF JOY IN THE JAWS OF DEFEATISM (Century Media Records)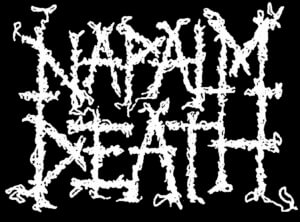 A veritable law unto themselves for the best part of 40 years and counting, the pioneering, peerless fathers of grind, Napalm Death, are back with their 16th studio full-length, 'Throes Of Joy In The Jaws Of Defeatism'. The five-year timespan between this landmark release and its predecessor, 'Apex Predator – Easy Meat' represents the longest gap between Napalm Death albums, but it has clearly been worth the wait as 'Throes Of Joy…' is right up there with the UK underground legends' greatest achievements. And that's saying something!
The first thing that's noticeable here is that, despite their ominously advancing years (all now in their 50s), Napalm Death have lost none of their aggression or edge. To the contrary, the naked anger and rage that have characterised their trailblazing protest music down through the decades remains wholly intact – perhaps more focussed than ever – as opening assault 'Fuck The Factoid' rips through the speakers, confirming that we are in for another unruly helping of socially-conscious violent, brutal extremity. The title track is another suitably pulverising, discombobulating affair, as is 'Zero Gravitas Chamber' – and indeed the vast majority of the album – but there are some notable curveballs, too, that merit special mention…
Never afraid to experiment or to do whatever the fuck they please, Shane, Barney and Danny take us to unfamiliar terrain for 'Invigorating Clutch', 'Amoral' and the stunning, experimental closing shot, 'A Bellyful Of Salt And Spleen', paying tribute to an unlikely potpourri of bands like Swans, Killing Joke, Ministry, Amebix, Godflesh, Hawkwind and Meathook Seed – post-grind with an alternative, indie vibe delivered with power and panache in Napalm Death's inimitable style. Meanwhile, there's an almost electro feel to the wonderfully-titled 'Joie De Ne Pas Vivre', another song where Barney demonstrates impressive flexibility in his vocal delivery.
There's a lot of bass on 'Throes Of Joy In The Jaws Of Defeatism' and it's wonderfully composed and executed, giving me the impression that this is the most fun Shane has had in years working on a Napalm Death recording. Sensational drums and varied vocals are also very much to the fore, while the guitars do appear to have taken something of a backseat this time around, perhaps due to the fact that Mitch wasn't as involved in the process as he normally is.
All the songs are incredibly memorable and catchy, Napalm Death once more showcasing an uncanny ability to merge and mutate a myriad of musical styles into one seething, heaving, potent brew: 100% proof. Napalm Death is a unique musical force that has not only effortlessly stood the test of time but gone from strength to strength over the years. In my humble opinion, they are simply one of the most important bands in the history of music (of all genres).

As well as being ridiculously, paint-strippingly ferocious and caustic, ideal for letting off steam, their songs have also been a constant source of inspiration and enlightenment to me throughout my adult life. The combination of their vintage, neck-snapping, boot-stomping belligerence with the more adventurous approach displayed on the aforementioned, left-field tracks renders 'Throes Of Joy In The Jaws Of Defeatism' a stunning success and without doubt an album that all fans of extreme music need to hear.
As ever, the lyrics – such an essential aspect of the Napalm Death experience – are intelligent, thought-provoking and sobering – protesting prose and poetry put to music, socio-political commentary / observations pointing to the darker, inexcusable and frankly pathetic aspects of humanity, the system and everyday life. The refrain of 'Amoral', for example, that we are "the shit of the earth" betrays a pent-up sense of fury and frustration at witnessing ad nauseam the same greed, corruption and mindless indulgences at the expense of others. Will things ever change? Can we learn or is it too late for redemption?
The great irony, of course, considering the inherently visceral and harsh nature of their music is that Napalm Death are such thoroughly decent, conscientious and outspoken human beings, tirelessly railing against ever-occurring, seemingly-endless injustices and inequality, lashing out fearlessly and unapologetically against morons and bullies everywhere, kicking against the pricks and standing up for the underdog. A beacon for the oppressed and cheated. They've been doing it for so long now – and so well – that it would be all too easy to take them for granted.
Evilometer: 666/666