NASHEIM – SOLENS VEMOD LP (Northern Silence Productions)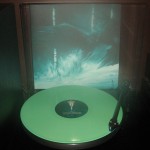 Nasheim's take on Black Metal is sorrowful, majestic, clean, polished, and über-melodic. If you're seeking raw and grim, lo-fi aggression, best to look elsewhere. The four epic tracks hereon rarely move past mid-pace and it's all a bit camp, if truth be told.
With a production befitting Eric Clapton, the gloriously-atmospheric debut full-length arrives over a decade after Nasheim became active and – even though 'Solens Vemod' is quite impressive – it doesn't really inspire me to think or say very much.
I suppose I could point out that it's like an orgy of the most melodic passages of Kampfar, Taake and Drowning The Light (but less interesting and more pleasant than such a concept) and that it comes in a gatefold cover. And is green.
A thing of beauty; but where is the fucking beast?
Evilometer: 333/666