WULKANAZ – KAOSNÅJD LP (Altare Productions)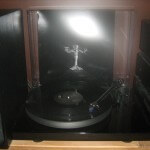 The initial twang of disappointment encountered upon learning that 'Kaosnåjd' wasn't in fact a new full-length proper dissipated as soon as I unpacked the record and gave it its first spin. For all intents and purposes, it's as good as a new album – and as essential as the other great 12" vinyls in Wulkanaz's dazzling discography.
This release collates material culled largely from two cassette EPs and one 7" recorded in and around the same time as the excellent 'HaglaNaudizEisaz' and 'Paúrpura Fræovíbôkôs' full-lengths, so we are not talking about odds and ends here. It's a little inconsistent for obvious reasons but, overall, 'Kaosnåjd' represents another stellar release from an artist who should not be ignored.
Personally, I have pretty much lost all interest in the cassette format due to its frustratingly-erratic quality, so this was a great way of gathering some superb material that I'd otherwise have missed. For the time being at least, Wulcanaz can do no wrong.
Evilometer: 666/666