NIGHTBRINGER – APOCALYPSE SUN 2LP (Blood Music Records)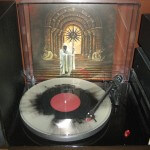 One of the main purposes of any review is to advise / influence your readers / listeners as to whether or not they should consider spending money on a particular product. However, when it is extremely unlikely that they will be able to get their hands on the item in question, is the review thereby rendered redundant? Probably. Thus, what follows is more of an observation than a review.
Nightbringer's second full-length, the 68-minute masterpiece 'Apocalypse Sun', was originally released on CD in 2010 but was given a rather luxurious double-vinyl makeover this year by Blood Music. Unfortunately for everybody except the label, this splendid edition pretty much sold out on pre-orders alone (I was extremely lucky to get my hands on a copy, which I paid for almost THREE months in advance).
Physically, everything about this album is immense. It looks, feels and sounds monumental. But it was ultra-limited and also substantially over-priced. I paid €30 plus postage and the same again for (equally-great) sister release 'Hierophany Of The Open Grave', which emerged on 2LP format at the same time.
Awesome record but the nature of this exclusiveness really, really bugs the hell out of me. The Black Metal community is a very small one – why not treat us with more respect? Credit to Blood Music for making the album available in the first place, but there is something about the whole transaction that does not sit comfortably with me.
The rating below is for the music and the product as opposed to the strategy behind it.
Evilometer: 666/666