NORDVREDE – CONFRONTATION LP (Darker Than Black Records)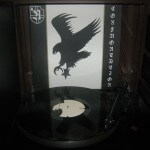 The vinyl issue – and only edition currently available – of Nordvrede's fifth full-length comes cased within a heavy gatefold jacket including a full-size 12×12 booklet with lyrics of hate printed for your perusal plus two bonus tracks. DTB has pulled out all the stops here and this LP certainly looks the part.
On the first few listens, I didn't think 'Confrontation' could hold a candle to the supreme 'Monument Viktoria', which in my opinion was the band's best release to date hitherto. However, upon repeated scrutiny and allowing the music to work its way into my subconscious, I have to admit that this is a stellar slab of Muhammad-bashing, Northern elitist indignation.
And an exceptional Black Metal album by any standards.
Evilometer: 666/666