ILL OMEN – REMNANT SPHERES OF SPIRITUAL EQUILIBRIUM EP (Nuclear War Now!)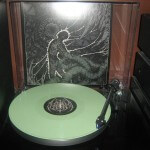 This four-track EP (37 minutes – longer than some albums!), originally issued on cassette in early 2013, was given the vinyl treatment by NWN last December and, true to form, the label pulled out all the stops by opting for olive green / radioactive snot coloured wax with a little sticker and patch included for good measure.
Personally I'd prefer black wax and no extras for a few dollars / euro less but that's probably just me being a miserable bastard…
Anyhow, although not quite as essential as either of IV's full-lengths under this moniker – the monumental 'Divinity Through Un-creation' and 'Enthroning The Bonds Of Abhorrence' – 'Remnant Spheres Of Spiritual Equilibrium' is still rather brilliant – especially the haunting, majestic and sickeningly-catchy opener 'The Summon… (Ominous Chants of Archaic Tongue)'.
Without further ado (I'm sure you have some porn or something to look at – same as the rest of us…), I decree that Ill Omen is an extraordinary entity and that this is a suitably enjoyable record.
Evilometer: 666/666