NORTHERN – CABIN FEVER (Sinistrari Records)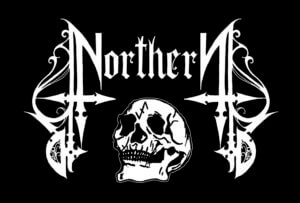 A continuation of cult USBM act Cold Northern Vengeance, NortherN emerges from the frigid, barren outpost of New Hampshire – a godforsaken region synonymous with extreme conditions and even more extreme individuals – with seven dark offerings of depraved, frozen misanthropy, delivered with a distinctive and contemptible touch. The bleak harshness of their unforgiving environs seeps through every second of 'Cabin Fever', as NortherN disdainfully demonstrate their dedication to the true founding spirit of Black Metal, unfurling the banner with pride as they without hesitation move ever further along the left hand path, consumed by utter darkness.
Following the haunting and harrowing tone-setting intro that is 'The Pangs of Nature's Indifference', 'Hypothermia' rumbles forth with pitch-black malice and adversarial intent – a pure distillation of authentic underground Black Metal performed with passion and feeling, encapsulating the isolated, rustic nature of NortherN's status as societal outcasts, a mood amplified on the bitter and resilient 'Outsider'. NortherN exists on the fringes and has no interest in being part and parcel of conventional 'wisdom'.
Providing the centrepiece to a brief but deeply satisfying recording, 'Cabin Fever' is a belligerent blast of hostility, raging with venom and inebriated with unhinged madness. Even when it slows down a notch, the title track remains unsettling and discomforting – as all good Black Metal needs to be. In fact, how unique is this in today's oversaturated and diluted BM scene, where artists struggle to instil any sense of dis-ease but instead focus on a paradoxically uplifting approach? Towards the climax of 'Cabin Fever', Heathen seemingly completely loses his mind and it's great to hear a veteran of the dark arts still pushing the boundaries.
The triumphant resignation of 'Darshana' is packed with raw emotion, adding depth and variety to an album that does anything but play it safe, while – after a folky, acoustic opening (Förgjord meets Neurosis) – 'Alcoholism' brings more darkness, bitterness and pain before the unorthodox, ambient outro 'The Final Stage of Paradoxical Undressing' – alluding to the unlikely phenomenon where the sufferer removes their clothing whilst in a state of hypothermia – provides a suitably bizarre denouement to this short, sharp shock of NortherN exposure, released appropriately on a label owned by none other than Gelal Necrosodomy of Grand Belial's Key infamy
Evilometer: 666/666