ORDER OF DARKNESS – VREJ LP (Altare Productions)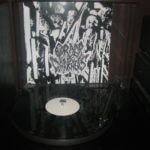 Raw Black Metal has never been in ruder health and, with 'Vrej', the dying-earth-scouring Altare Productions has come up with another diseased gem. Order Of Darkness is conceived into reality by one individual, who likes to be called Harbinger of the Void, and who hails (apparently) from the United States.
On his debut full-length, Mr of the Void delivers six cavernous, lo-fi, barely-there offerings at the altar of the dark father, celebrating death, decay, depravity and such. Like a lot of the raw stuff, this is a limited pressing, which strangely adds to the allure, somehow.
Evilometer: 666/666