ORGY OF CARRION – BLOOD WASHED AWAY THE GRAVE PURITY LP (Skjold)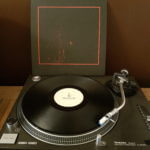 Notwithstanding the frankly tiresome and dubious shenanigans of a label that seems hellbent on frustrating the fuck out of genuine punters in favour of speculators with no real interest in Black Metal, Orgy Of Carrion's third full-length, 'Blood Washed Away The Grave Purity', is a superb slab of noisy BM chaos.
Probably not as great as the artificially-generated hype might suggest, nor as enjoyable as its predecessor (vinyl successor), 'Obscured Ceremonies Under Hell Moon', but still a very good album. Pity about the bullshit and brouhaha surrounding its limitation. A deal breaker, if ever there was one.
Evilometer: 444/666